Jennifer Steele Show
3/16/18
                                             
 The Luck O The Irish Be With You & Yours! Here's an Irish Blessing For You!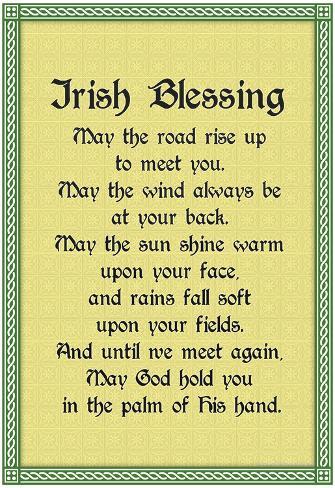 I thought we would have fun for St. Patrick's Day in today's Blog, so here we go!
St. Patrick's Day Knock Knock Jokes
Knock Knock …. Who's there? ….Irish!… Irish Who? …. Irish you a happy St. Patrick's Day!
Why can't you borrow money from a leprechaun? …. Because they're always a little short.
Why don't you iron 4-Leaf clovers? …. Because you don't want to press your luck.
How is a best friend like a 4-leaf clover?…. Because they are hard to find and lucky to have.
How can you tell if an Irishman is having a good time? …. He's Dublin over with laughter!
What did the leprechaun do for a living?… He was a short-order cook!
Are people jealous of the Irish?… Sure, they're green with envy!
How did the leprechaun beat the Irishman to the pot of gold?… He took a shortcut!
What do you call a big Irish spider?… A Paddy long legs.
On what musical instrument did the showoff musician play his St. Patrick's Day tunes?… On his brag-pipes.
Weekday Warriors

Good Vibes!
Don't forget to check out "The 80's at 8" at 8am & 8pm M-F!
Request your favorite 80's song or become a guest DJ by visiting our
"80's at 8" page here.
See You Monday at 7pm !
The Jennifer Steele Show
Email:
Follow Me At:
http://1015khits.com/category/jennifer-steele/
https://www.facebook.com/Jennifersteelekhits/
https://www.linkedin.com/in/jennifer-steele-84153851
https://twitter.com/jensteelekhits
https://www.instagram.com/jennifersteelekhits/
Me & My Dog Jack!