The Jennifer Steele Show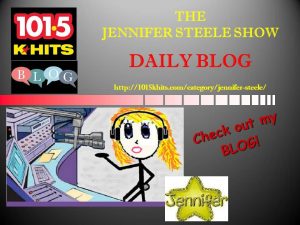 4/17/18

It's an all Disney Edition today so May the force be with you from the Happiest Place on Earth!  
Drone footage of Disneyland's Star Wars: Galaxy Edge in construction!   
At Star Wars: Galaxy's Edge, guests will be transported to the planet of Batuu, a remote outpost on the galaxy's edge that was once a busy crossroads along the old sub-lightspeed trade routes. Here, guests will find themselves in the middle of the action at two attractions that take detail and immersion to the next level: one that lets guests take the controls of Millennium Falcon on a customized secret mission, and an epic Star Wars adventure that puts guests in the middle of a climactic battle between the First Order and the Resistance. As you can see in this video, which Bob Iger shared this morning during the 2018 Annual Meeting of Shareholders, Star Wars: Galaxy's Edge is shaping up to be one of the most detailed and immersive lands ever created in Disney Parks history.
19 Things You Didn't Know You Could Do in Disney World!
Weekday Warriors


Today's Spotlight Is On:
2018 Carmichael Elks Classic Car Show
in Carmichael
CARMICHAEL ELKS 2018 CLASSIC CAR SHOW
April 21, 2018
SIXTH Annual Carmichael Elks Classic Car Show featuring Muscle Cars as well as Classic Collector cars vintage years 1919 through 1975. Who's invited? Owners of newer, late model non-show competition cars who want to display their unique machines to park in the parking lot facing Cypress Avenue. More Info, Click Here.
Don't forget to check out "The 80's at 8" at 8am & 8pm M-F!
Request your favorite 80's song or become a guest DJ by visiting our
"80's at 8" page here.
See You Thursday at 7pm !
The Jennifer Steele Show
Email:
Follow Me At:
http://1015khits.com/category/jennifer-steele/
https://www.facebook.com/Jennifersteelekhits/
https://www.linkedin.com/in/jennifer-steele-84153851
https://twitter.com/jensteelekhits
https://www.instagram.com/jennifersteelekhits/
Me & My Dog Jack!