HAPPY UN-APRIL FOOL'S DAY!!!
Hello and Welcome To The Jennifer Steele Blog!
In Today's Blog………..
So I am thinking that we try something new today and create UN-APRIL FOOLS DAY! For all the people who find April Fool's Day Annoying! Like Me! Let's Try it! We will De-bunk a few pranks & other things- See Below!
Jennifer Steele, M-F 7p-12a, 101.5 K-HITS 
**Hear It First On My Show! You can listen on-line at www.1015khits.com!
 **Show Stuff!
46% of People Say April Fools' Pranks are "Annoying"
April Fools' Day is today. . . and for about half of us, it's the Super Bowl of annoyingness.
According to a new survey, 46% of people say they think April Fools' Day pranks are ANNOYING.  42% say they're amusing.
And 12% of people weirdly have made it this far in life without formulating a positive or negative opinion.
McDonald's April Fools' Day joke about new burger angers customers!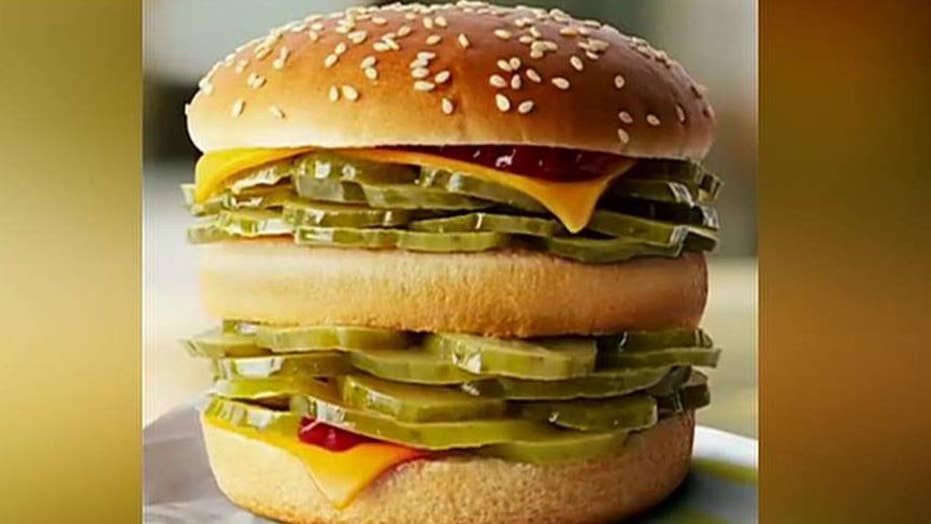 Rightly so! Who wouldn't get mad about this?? McDonald's got itself in a pickle on Monday when it attempted an April Fools' Day joke that left some Australian customers angry. The fast-food chain posted a video on Twitter claiming it was adding a new burger, the McPickle, to its menu in Australia.
"Pickle lovers, it's the news you've all been waiting for. We're super stoked to announce the launch of our brand new McPickle Burger," the Instagram post read. "It's time to tuck into juicy, flavoursome pickles layered between melted cheese, ketchup sauce and toasted sesame seed buns. It's sure to be a treat for all your senses. #dailynuggets #mcpickle #pickleoverload #maccas #imlovinit"
April Fools' Day 2019: These fake ads might trick you!!! Watch out!!
A Disturbing April Fool's True Story…………
Please note: Names have been changed to protect the identities of the victims.
On this day in 1979, a woman and four men were abducted from Grand Teton National Park.  According to witnesses, a group of a dozen hikers headed out on March 29th with enough gear and supplies to return that Sunday evening.
Allison Rockford of Boulder, Colorado said all the hikers were experienced, and they had no trouble navigating the trail to Two Ocean Lake.
"We set up camp. Roger even commented it all seemed too easy."
Roger Moore of Denver was the first to disappear.  "We were just getting ready to eat.  He was just gone.  Everything was gone, even his walking stick," Jeff King, also of Boulder, explained.  "There wasn't any sign of struggle."
The remaining 11 hikers started a search until darkness fell and then huddled around a fire, they took turns keeping watch until morning.
They watched in pairs, and they disappeared in pairs as well.  Griffin and Jennifer Rhodes of Douglas, Wyoming, took the first watch and when the next watch came, they were gone.
Jeff and Allison both took a turn and made it through their watch.  Then Bruce Hornsby (Preston, Idaho) and Tom Wolff (Monmouth, Oregon) stood watch.  They haven't been seen since.
Before daylight returned a piercing sound filled the forest.  "It was electronic, high pitched and painful," Allison explained.  "I can't describe it any other way.  We all were doubled over in pain."
"Then it suddenly stopped, and the sky was filled with light, as bright as day," Roger continued the description of the events. "It was brighter than day. It was blinding!"
Then, according to both Allison and Roger, the only hikers who agreed to speak with us, the light was gone and within moments, forest sounds that had been mysteriously missing from the night returned.  Rustlings of nocturnal animals, an owl called and the mountain seemed back to normal.
The next morning the remaining seven made their way to the nearest ranger station.
As they made their way along the trail on the southern side of Two Ocean Lake, across the valley and nestled in a low spot, they could see an unnatural formation. It was oddly perfect; disturbingly perfect.  Burned into fresh spring growth were three perfect, identical circles arranged in a triangle.
Rangers searched the area for weeks after the disappearances, but the only sign of the missing hikers that has ever been found was Roger Moore's walking stick.
It was found at the center of the arrangement of burned circles without a mark on it.
Newspapers, television, radio and social media have had their fun on April Fools' Day. Check out all this April 1 foolishness:
Times of London reported in 1992 that Belgium was negotiating to join Holland.
The Evening Star of Islington advertised in 1864 a display of donkeys at the Agricultural Hall the next day. Those who arrived early soon realized who the donkeys on display really were.
In 1950, The Progress in Clearfield Pennsylvania published a picture of a UFO flying over the town. Claiming to have "scooped" larger publications of the first ever published picture of a real flying saucer.
In 2008, the BBC presented a documentary on flying penguins.
Now do I have a case for wanting a National Un-April Fools Day?
7 songs. 1 theme.
That pretty much sums it up!
Each weeknight at 7:00, I play 7 songs that fit some theme. What's the theme? Listen at 7 to find out and listen along. The funnest part is trying to guess which songs we might play that fit the theme!
Have an idea for a theme? Click Here! 
Email:
Follow Me At:
http://1015khits.com/category/jennifer-steele/
https://www.facebook.com/Jennifersteelekhits/
https://www.linkedin.com/in/jennifer-steele-84153851
https://twitter.com/jensteelekhits
https://www.instagram.com/jennifersteelekhits/
Me & My Dog Jack!