The Jennifer Steele Show *6/17/19
Hello and Welcome To The Jennifer Steele Blog!
Has it been 80 years already since The Wizard of OZ worked it's way into American Pop Culture??? Yesssss, and an unlikely meeting of 3 classic bands PLUS did Blake get Gwen her new gig? Find out below! Enjoy!
Jennifer Steele, M-F 7p-12a, 101.5 K-HITS 
AN UNSEEN PHOTO FROM THE SECRET MEETING OF AC/DC, THE BEATLES AND THE EAGLES!
Guitarist of The Eagles, Joe Walsh has posted a special photo of himself with AC/DC members Angus Young, Brian Johnson, Cliff Williams, and also Ringo Starr from The Beatles. To see the pic, click here! 
'The Voice': Did Gwen Stefani Get the Job Because of Blake Shelton?
Gwen Stefani is headed back to be a coach on NBC's reality music competition, The Voice. Although we know she's thrilled to have the chance to work with her boyfriend Blake Shelton again, she's also sad that it's due to Adam Levine leaving the show. But, did she land the job because of her relationship with Shelton? Click here to see more! 
The Wizard of Oz at 80: how the world fell under its dark spell-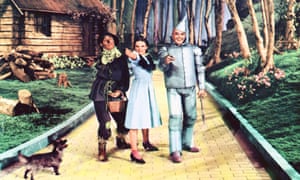 Eighty years ago, in the summer of 1939, 16-year-old Judy Garland appeared on cinema screens as the orphan Dorothy Gale, dreaming of escape from bleak, monochrome Kansas. "Find yourself a place where you won't get into any trouble," her aunt beseeches, too busy for poor old Dorothy, who soon breaks into song: "Somewhere, over the rainbow, skies are blue / And the dreams that you dare to dream really do come true"… Read more here! 
7 songs. 1 theme.
That pretty much sums it up!
Each weeknight at 7:00, I play 7 songs that fit some theme. What's the theme? Listen at 7 to find out and sing along. The funnest part is trying to guess which songs we might play that fit the theme!
Have an idea for a theme? Click Here!