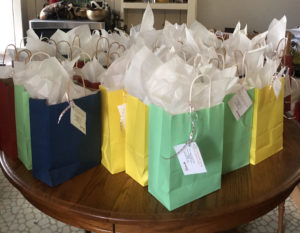 This weekend some of my friends and I got together and put together 45 gift bags to take to a senior care home in our town! We picked a senior home because  we wanted them to know someone out there cared about them. Often times, many of their families cannot come to see them, and especially now during isolation many of them are lonely. 
If you would like to adopt a senior home in your area, it's easy to do: Pick a home. Call the director at the home and tell them what you would like to do. Ask them how many residents they have and what types of items they could use or would want in a gift bag.  Here's a list of what we put in ours:
-Lotion
-Soap
-Fuzzy Socks
-Chapstick
-Individually wrapped chocolates
We put tissue in our bags and attached a note letting them know we were thinking about them. It's a good idea to purchase wrapped or sealed products.
There you go. You are on your way to spreading smiles to some very special people!!