5 Tips To Grilling The Perfect Burger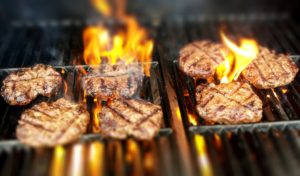 We may not be having as many BBQ's as usual this year, but with the warmer weather we are definitely in the mood for grilling! While everyone has their own style of cooking a burger, there are some tips that can help to make sure that it's worth the effort! 
#1  Make sure the meat is room temperature.
#2  Make sure you do not mix the meat too much to ensure that it is not too chewy.
#3  The grill needs to be hot enough because carmelization is crucial! Go for the high heat!
#4  There needs to be enough fat in the burger to ensure it's tastiness- 80% is perfect.
#5  Make sure the burger is thick enough, 3/4 inch and thicker are the best.
Now you are ready to impress your friends with your grilling skills! Don't forget the extra onions to ensure proper social distancing!!