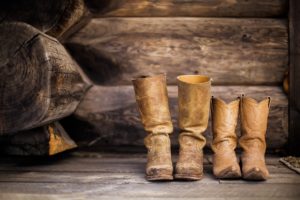 Can it really have been 40 years since John Travolta revitalized his career with the smash hit "Urban Cowboy"? Yes, oh how time flies! 
Released right after "Saturday Night Fever" and "Grease", "Urban Cowboy" solidified Travolta's stardom and unleashed a line dancing craze across The U.S. (Side note- Patrick Swayze's Mother was  a choreographer on the movie). The soundtrack to Urban Cowboy reached #10 on the country charts and crossed over on to the pop charts too! 
Although the real life "Gilley's" burned to the ground in 1990, there has been talk of a new one opening in Houston. Maybe John Travolta and Debra Winger would be there for the opening. It would of course, like pretty much anything Travolta does, secure the success of another Line Dancing Honky Tonk! Now the question is, will there be a Urban Cowboy Reeboot and would Travolta and Winger be a part of it? One can only hope!