Give Your Ice Cream A Kick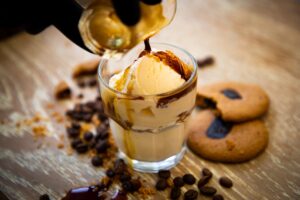 It's the summertime! The weather is Hot and ice cream always sounds like a good idea, right?
If you are having some ice cream at home, here's a little trick to help top your treat with a little caffeinated kick! Coffee Grounds.
Yes, coffee grounds! If you are a coffee ice cream lover and don't have any on hand, you can use plain old vanilla topped with coffee grounds to get the taste that you are after. Or spice up any flavor!