Today is World Chocolate Day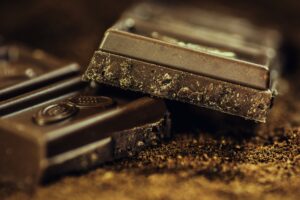 Every day is a good day to celebrate Chocolate, and July 7th is World Chocolate Day (International Chocolate Day is on September 13th and National Chocolate Day is celebrated on October 28th and December 28th)! Just in case you need another reason to indulge in America's favorite candy! This treat first appeared around 1900 BC when early Central American cultures turned cocoa seeds into bitter beverages. Naturally, chocolate is intensely harsh on the tongue and must be fermented to develop flavor. Fast forward about two thousand years and people are still turning chocolate into beverages, though not quite so bitter. And how should you celebrate this national holiday you may ask? By eating chocolate of course, but I'm sure you already knew that.
Chocolate Fun Facts:
The first recorded "Death by Chocolate" case occurred in the 17th Century in Chiapas, Mexico.  Upper class Spaniards were so addicted to chocolate that they refused to adhere to a church dictated chocolate ban that forbade them from eating or drinking any food during the church services.  As a result, the people of the town refused not only listen to the ban but chose to attend worship services in convents instead.  The Bishop who passed the law was later found dead due to poison being mixed into his daily cup of chocolate.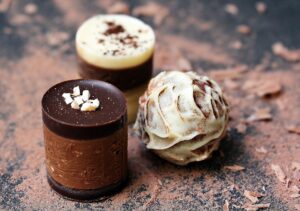 The word "chocolate" comes from the Aztec word, "Xocolatl", which ironically means "bitter water".
The word chocolate was first recorded in English in 1604, though England's first cup of chocolate was not brewed until 1647.
February 14th is National Cream Filled Chocolate Day.
February 19th is National Chocolate Mint Day.
October 28th is National Chocolate Day.
December 16th is National Chocolate Covered Anything Day.
December 28th is Chocolate Candy Day.
The biggest bar of chocolate ever made was created in 2000 and weighed 5,000 pounds.  Turin is the city in Italy that can be proud of this accomplishment.
Americans eat an average of 22 pounds of candy each year, or approximately 2.8 billion pounds annually which is split almost equally between chocolate and candy.  Most Europeans consume far less than this.
While the US produces the most chocolate and consume the most pounds every year, the Swiss consume the most per capita,  followed closely by the English.
Besides the obvious cheese and ice cream industries, American chocolate manufacturers use about 1.5 billion pounds of milk and consume approximately 3.5 million pounds of whole milk yearly.
Chocolate manufacturers currently use 40% of the world's almonds and 20% of the world's peanuts.
For more chocolate fun facts click here!