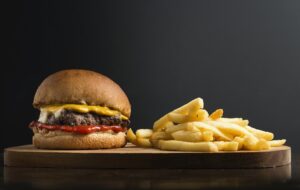 Let's face it- we all, in some way, have a fast food favorite! It just is a part of our reality. I thought it might be fun to explore some fun facts about Fast Food – so here we go!
Every month, 9 out of 10 American children visit a McDonald's restaurant
November 16th is National Fast Food Day
French Fries are the most popular fast food in America
Although McDonald's made the drive thru public, it was Wendy's who first thought of the idea around 1971.
Drive-thrus led to installation of cup holders in vehicles
There are over 300,000 fast food restaurants in the United States
Coca-Cola and PepsiCo products are sold in all but one country. North Korea is the lone holdout.
McDonald's is the largest purchaser of beef, pork, and potatoes in the world.
Kentucky fried chicken is the largest purchaser of chicken in the world.
96% of all Americans have visited McDonald's at least once
In 1952 Kentucky Fried Chicken (KFC) sold the first paper chicken bucket.
Americans consume over 216 liters per person of soft drinks annually.