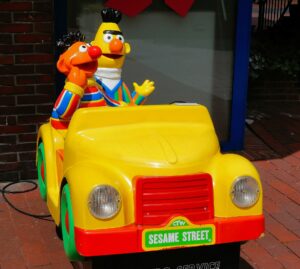 July 26th is Bert's Birthday! Happy Birthday from 101.5 K-Hits! In honor of Bert's Birthday, let's learn a little bit about Ernie & Bert…
Bert and Ernie are the silly, funny roommates who star on the children's TV show 
Sesame Street.
 Bert and Ernie first appeared on the popular show in 1969. They were part of the show's troupe of Muppets, the puppet creations of 
Jim Henson
. (Other Muppets included Kermit the Frog, Big Bird and Oscar the Grouch.) 
Sesame Street
 became a long-running classic and Bert and Ernie continue to appear on the show as friends who live together but bicker constantly (if cheerfully). Bert is the taller, more irritable one and Ernie is the round-faced, goofy one. For many years Ernie was voiced by Henson and Bert by 
Frank Oz
; other performers have since taken over the roles.