Today we Salute the Coast Guard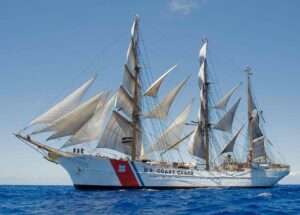 August 4th is Coast Guard Day! This is the day we honor the military branch that protects our waters and shorelines: the United States Coast Guard.
Did you know that the term "Coast Guard" wasn't used until 1915? This military branch got its start on August 4, 1790 and was originally referred to as the Revenue Cutter Service. More than two hundred years later, we celebrate all that the Coast Guard has done to protect our country!
Did you know that Grand Haven, Michigan, is known as Coast Guard City, USA? Their annual celebration is typically the largest community celebration of a branch of the Armed Forces in the nation!
To celebrate this day, make sure to take a moment to commemorate the Coast Guard. Be on the look out for festivals, parades, and other events in your area. Happy Coast Guard Day!
Learn more about the Coast Guard here!