Who DOESN'T Like Chocolate Chip Cookies?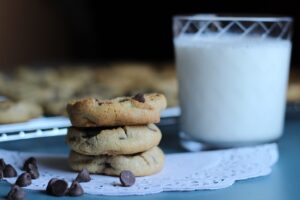 If you claim to not like Chocolate Chip Cookies, well, I'm not sure that you can be trusted! They are one of life's simple pleasures and my Mom makes the Best Chocolate Chip Cookies! On this National Chocolate Chip Cookie Day I thought we would take a look at some fun facts about our favorite snack! 
Today is National Chocolate Chip Cookie Day
Chocolate chips are an essential ingredient in dozens of delicious baked goods—chocolate chip cookies, chocolate chip pancakes, chocolate chip muffins, chocolate chip brownies, chocolate chip bagels, and many more. You can even find chili recipes that call for these sweet morsels!
In the 1930s, Ruth Graves Wakefield created the original chocolate chip cookie at her Toll House Inn in Whitman, Massachusetts. Ruth intended to bake chocolate cookies for her guests, but she ran out of baker's chocolate. She substituted with chopped up semi-sweet chocolate morsels and discovered that the pieces did not melt into the dough as she expected.
Her cookies were an instant hit. Today, 25% of all the cookies baked in the United States are chocolate chip! 
In 1987 Chester Soling sponsored a contest to find the best recipe for chocolate chip cookies and got over 2.600 responses for various recipes.
Did you know you eat about 35,000 cookies in a lifetime?
Chocolate chip cookies were originally called Chocolate Crunch Cookies.
Massachusetts's official state cookie is the chocolate chip cookie, and in 2001 the common wealth of Pennsylvania declared it their official cookie as well.
Click here to learn more!