Thursday is National Play Monopoly Day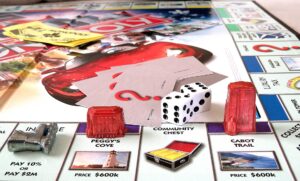 November 19th is National Play Monopoly Day! Unless you've been living under a rock your entire life, chances are you've played a round or two of Monopoly at some point. If you haven't, take today to bust out the classic family-favorite board game! Celebrated on November 19th each year, Monopoly is known as one of the most popular board games in the world. While the number continues to grow as the years go on, it has been estimated that more than one billion people have played Monopoly since 1935! Take today to dust off your old Monopoly board and play a round with friends, family, or coworkers!
Did you know?
1. The Monopoly game is based on Atlantic City, New Jersey.
2. Charles Darrow first developed the Monopoly game in 1933.
3. Charles Darrow is from Philadelphia.
4. The original game was made from materials from Darrow's own home. A piece of oilcloth covered the board and the cards were handwritten.
5. The original houses and hotels were made from wooden molding scraps.
6. The original Monopoly die-cast tokens were inspired by Darrow's nieces who recommended metal charms from charm bracelets be used.
7. The original game included 10 metal tokens including iron, purse, lantern, race car, thimble, shoe, top hat, battleship, cannon and a rocking horse.