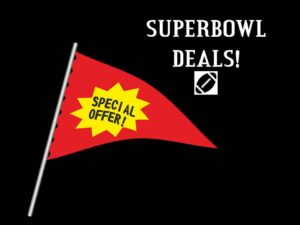 Lots of people are watching the Super Bowl at home alone or in small groups this year, instead of going to a big party.  So a bunch of restaurants are doing takeout deals.  Here's a rundown of what they're offering . . .
1.  Applebee's.  Every $40 online order on Sunday will come with 40 free boneless wings.  Just use the promo code BIGGAME.
2.  Red Lobster.  They've got "Game Day Bundle" specials going on through Sunday that include entrées, sides, Cheddar Bay Biscuits, and free Pepsi.
3.  Yard House.  They've got a Tailgate Takeout Pack, which comes with chicken nachos, wings, and a choice of two pizzas for $50.
4.  BJ's Restaurant.  They put together "Homegating Packs," which include deep-dish pizza, chips and dip, appetizers, and a beer growler or non-alcoholic drink for $65.
5.  Hooters.  They're offering an MVP Bundle, which includes 42 wings with a choice of two sides for $40.
6.  Buffalo Wild Wings.  Buffalo Wild Wings is giving everyone free wings . . . but only if the game goes into overtime.  (A Super Bowl has only gone to OT once, in 2017.)
7.  Panda Express.  Through Sunday, you can get a Family Meal with three large entrées and two large sides for $29 plus free delivery. 
*Blog  by Jennifer Steele. Listen, follow, and play along with Jennifer Steele here.