10 Interesting Facts And Stats From Super Bowl 55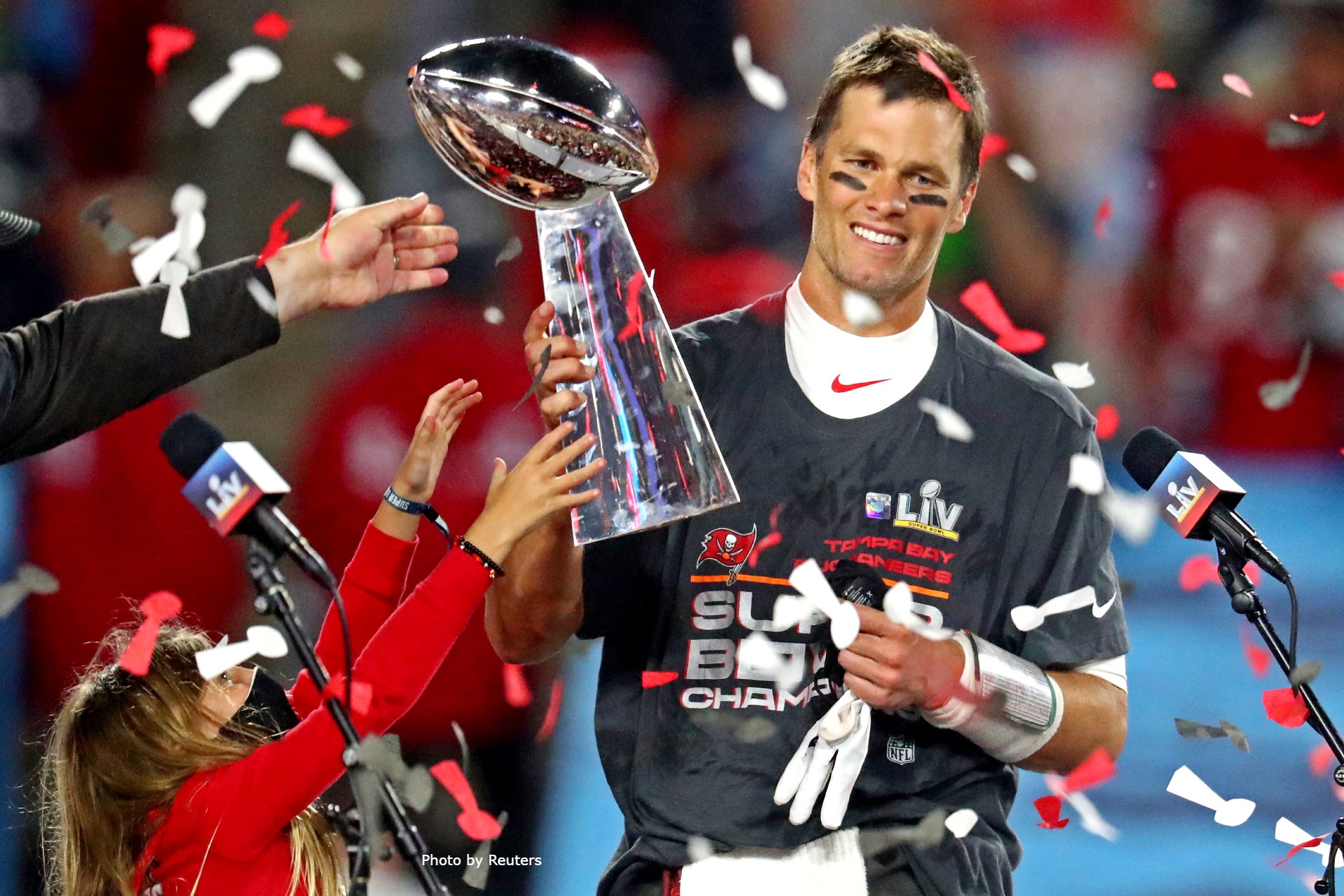 1.  This is my favorite stat from last night's game:  Chiefs quarterback Patrick Mahomes ran for an incredible 497 YARDS . . . while SCRAMBLING.
The Buccaneers pass rush forced Mahomes to bail out of the pocket and run everywhere . . . just not, you know, FORWARD.  The 497 yards he traveled before throwing or being sacked is the most scramble yards by any quarterback since at least 2016.  (Here is Mahomes vs. Brady scrambling.)
For the record, Mahomes had 33 positive yards rushing from the line of scrimmage.
2.  It's really weird to see Mahomes on the wrong end of a blow-out.  It's historic, too.  The last time Mahomes started and lost a game by more than one score was November 19th, 2016 when he was in college at Texas Tech . . . and he lost 66-10 to Iowa State.
3.  Tom Brady has been there.  Teams trailing by double-digits at halftime in the Super Bowl are 1-25 all-time . . . with the lone win being the Brady and the Patriots, who were down 18 points against the Falcons in Super Bowl 51.
4.  But Brady doesn't usually get off to a good start in the Super Bowl.  In fact, yesterday's game was the FIRST TIME in 10 Super Bowls that Brady scored a touchdown in the first quarter.
It was also the first time in those 10 Super Bowls that Brady's team has held a lead in the first quarter.
5.  Brady is the FIRST player in NFL history to win multiple titles after turning 40. 
And in the history of the four major American sports, he's the FIFTH to do it . . . behind Chris Chelios, Kareem Abdul-Jabbar, Enos Slaughter, and baseball player Jack Quinn, who you might remember from those exciting Philadelphia Athletics teams of the late-1920s.  (???)
6.  The Bucs defense owned the Chiefs offensive line.  Mahomes was pressured more in this game than any quarterback in Super Bowl history (29 times), passing the record of 25 by Jim Kelly in Super Bowl 26.
Brady faced his fewest pressures (4) in any Super Bowl of his career.
7.  The Bucs are the first team with four 30-point games in a postseason . . . and they're the first team to beat three Super Bowl MVP quarterbacks in a postseason (Mahomes, Aaron Rodgers, and Drew Brees).
8.  Bucs head coach Bruce Arians became the oldest coach to win a Super Bowl.  He's 68.  The old record was held by Bill Belichick, who was 66 when the Patriots won Super Bowl 53 in 2019.
Speaking of the Patriots, their Twitter account congratulated Brady on his win . . . and added, quote, "And Gronk, be careful with that trophy . . ."
9.  Brady became the only quarterback to win a ring in each of THREE decades.  Only two other quarterbacks have won in two decades:  Peyton and Eli Manning.
Brady also joined Peyton as the only starting quarterback to win Super Bowls with two teams.
10.  Before Brady signed with Tampa Bay 324 days ago, the Bucs hadn't had a winning record since 2016, and they hadn't reached the playoffs since 2007.  In fact, their last postseason win came on January 26th 2003, when the Bucs beat the Oakland Raiders to win Super Bowl 37.