America's least favorite pizza topping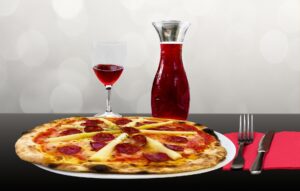 Pizza has been in the spotlight lately with National Pizza Day being celebrated last week. Americans eat approximately 350 slices of pizza per second and there are approximately 61,269 pizzerias in the United States. 
We know that America's favorite pizza topping is Pepperoni, but what is our least favorite? Knowing is important because no matter how good the crust and sauce are, it doesn't matter if a terrible topping is added to the pizza.
So to save yourself from finding out on your own, listen to your fellow pizza eating Americans! A new survey says that it has determined America's least favorite pizza topping, according to a post on YouGov.com. The topping in question? Anchovies! 61% of respondents said that they don't like anchovies on pizza, 52% also said that they don't like eggplant on pizza. Artichokes were the third least popular topping, with 44% of respondents saying no to them.
Now you know- Now don't make the mistake of ordering bad pizza! 
*Blog  by Jennifer Steele. Listen, follow, and play along with Jennifer Steele here.