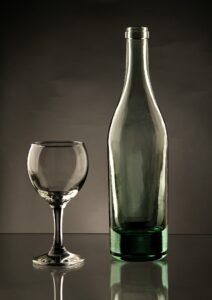 Today is National Drink Wine Day, because clearly everyone is struggling to find an excuse to drink wine these days.
So . . . when you're drinking wine, how many glasses do you usually put down in one sitting?
According to a survey, 74% of people have one or two glasses.  But 9% drink at least five glasses . . . or just finish the entire bottle.
18% of people say merlot is their favorite type of wine, and 16% say zinfandel.  Coming in third?  Quote, "I don't know my wine types."
WINE FUN FACTS – 
February 18th is National "Drink Wine" Day.
May 25th is National Wine Day.
The top three imported wines sold in the U.S. are Yellowtail (Australia), Cavit (Italy), and Concha y Toro (Chile).
The term bouquet refers to the total scent of the wine. Aroma is the scent of the grapes. When wine tasters want to describe the bouquet and the aroma together, they use the term nose.
In 2008, the top five wine-producing states in the U.S. were California (3.4 million tons of grapes crushed for wine), Washington (145,000 tons), New York (45,000 tons), Oregon (40,000 tons), and Pennsylvania (13,200 tons).
As white wines age, they gain color. Red wines, on the other hand, lose color as they age. To analyze your glass of wine, hold the glass on an angle in front of a white background, such as a napkin or tablecloth. White wines can range from a pale yellow-green to a brownish hue. Reds begin at purple and scale all the way to brown.
California has more Chardonnay grapes than anyplace in the world. It has been the most successful white grape in the state, yielding a wine of tremendous character and magnificent flavor. It is also the top selling varietal in the United States.
According to the U.S. Dietary Guidelines, there are 100 calories in a 5-ounce glass of wine (compared to 150 calories in a 12-ounce beer). Plus wine is a fat-free and cholesterol-free drink. Cheers!
*Blog  by Jennifer Steele. Listen, follow, and play along with Jennifer Steele here.