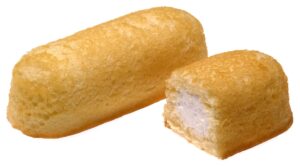 Today is National Hostess Twinkie Day! This isn't an "official" holiday, but does it really need to be? Marketed as a "Golden Sponge Cake with Creamy Filling," they were originally called Little Shortcake Fingers, and renamed Twinkie Fingers, before finally becoming "Twinkies."
Twinkies were invented in Schiller Park, Illinois, by James Alexander Dewar, a baker for the Continental Baking Company in 1930. Since there were several machines that were used to make the cream-filled strawberry shortcake that was being used during the off-strawberry season, Dewar decided to fill a snack cake with banana cream.
During World War II, bananas were rationed and the company was forced to switch to vanilla cream, which is what remains. After the war was over and bananas were more readily available, they didn't switch back because people liked the vanilla cream better.
*Blog  by Jennifer Steele. Listen, follow, and play along with Jennifer Steele here.