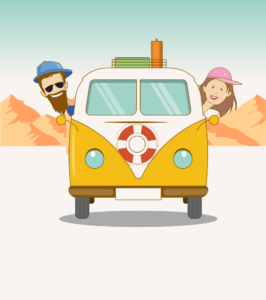 This year, May 28th is National Road Trip Day! Every year, the Friday before Memorial Day is considered National Road Trip Day – and it serves as the official kickoff of the summer road trip season. And this year? The desire to hit the open road feels more needed than ever as our nation has been collectively locked down for months.
Of course, this year, the shape this weekend will take is anyone's guess. Usually, millions of Americans hit the road each year over the long weekend, visiting friends and family while paying tribute to our American heroes. But as states are still trying to figure out "normal," many folks are simply taking the time at home.
Planning to hit the road anyway? We get it – the open road often calls when long weekends and Fridays roll around. We pack up, fuel up, stock up, and then crank up the tunes.
More than 60% of road trippers say that having good music, audiobooks, and/or podcasts to listen to are the most important parts of a successful road trip.
Beyond that, about 59% say that having good snacks and drinks for the road, finding great places to eat on the way, and finding clean bathrooms to use while traveling are their most important parts of a successful road trip.
If you're planning to hit the road…be safe!