Oscar the Grouch's Birthday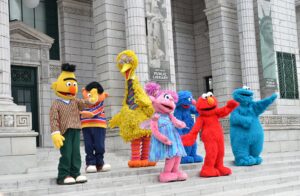 June 1st is Oscar the Grouch's Birthday! We love this classic Sesame Street character for his grouchy, street-smart (yet somehow lovable) personality. Puppeteer Caroll Spinney brought him to life in 1969, and was inspired by the voice of a New York City taxi driver he had while on his way to the production studio.
Oscar is often spotted with his friend and pet Slimey, a cute orange worm. Amidst all his grouchiness, he does get along with the neighborhood children! Another sweet side to Oscar is his choice of dessert. His favorite is spinach sardine chocolate fudge sundaes, followed closely by mashed bananas with ice cubes and cold beef gravy. Bon appetit!