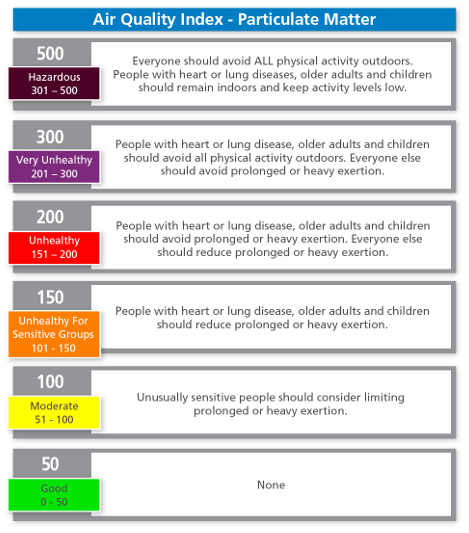 During Spare the Air days, the air quality may be greatly reduced. This is caused by pollution, smoke, extreme heat, among other factors. Here is the grid to understand what the Spare the Air ratings mean.
You can see the current air quality on the map at the bottom of this page.
You can see air quality forecasts here.
Here are things you can do to help during a Spare the Air day:
Cut back on driving
When ozone pollution is high, cut back on your driving and cancel one car trip to help lower pollution.
Bring your lunch to work
This easy action reduces two trips, one to get to the restaurant and one to return to work.
Postpone errands until the Spare The Air alert is over
This action will reduce one or more round-trips and keep those car emissions out of our air when pollution is already high.
Link your errands into one big trip
This reduces pollution by minimizing cold starts. A cold engine that's been sitting for an hour or more pollutes up to five times more than a warm engine. You'll reduce pollution, save fuel and save time.
Take public transit for one or more trips
Plan now and check out transit schedules in your area so when it's a Spare The Air day you're prepared to use public transit. http://www.sparetheair.com/links.cfm#transportation
Work from home
Working from home reduces two trips, one to get to work and one to return home. Plan now and get employer permission in advance.
Energy Efficiency also helps:
Turn off lights and electronics when not in use
This will save energy. Less fuel burned at power plants means cleaner air.
Consider low-maintenance landscaping
It uses less water and doesn't require the use of gas-powered lawn tools to maintain.
Consider solar energy
It prevents water and air pollution associated with burning fossil fuels for energy.
Install new weather-stripping and caulking around windows and doors
A well-insulated house conserves energy and saves money.
Cover your water heater with a water heater blanket
This blanket is made of insulation contained in sheet plastic so it can be easily attached to the water heater. A properly installed blanket will reduce energy loss.
Install water-saving showerheads
Whether you are replacing an older, inefficient showerhead or simply looking for ways to reduce water and utility bills, look for the WaterSense label on showerheads along with faucets, faucet accessories and toilets to find models that save water and perform well.
Install energy-efficient lighting
Use energy-efficient lights throughout the inside and outside of your home or office. Saving energy helps you save money on utility bills and protect the environment by reducing greenhouse gas emissions in the fight against climate change.
Click the magnifying glass on the top-left of the map, then type in your zip code to see the air quality in your area.
Please note that it might take 10-15 seconds for the data to show up after you select your zip code. This is live data, so it takes a bit to load the current information.